I have a confession. I have never launched one of my own books. I am just not a party-organising type person, even though I enjoy them during and after the fact, the before part kills me: is there enough food? Drinks? Places to sit? Will people have fun? Will they come? Will all my people mix? Will there be tears? And that's just for a four year old's birthday party. (You may think organising launches is the kind of thing your publicist does, between driving you around in limousines and topping up your champagne glass. Sorry to say this is not the case.) I often intend to have a launch. Kate and I planned to do something for Swoosie, but it came out in January and she was in Sorrento, then we were in Tassie, and January dissolved into February and the kids went back to school and...it all got hard.
But this week I am involved in two launches.
1.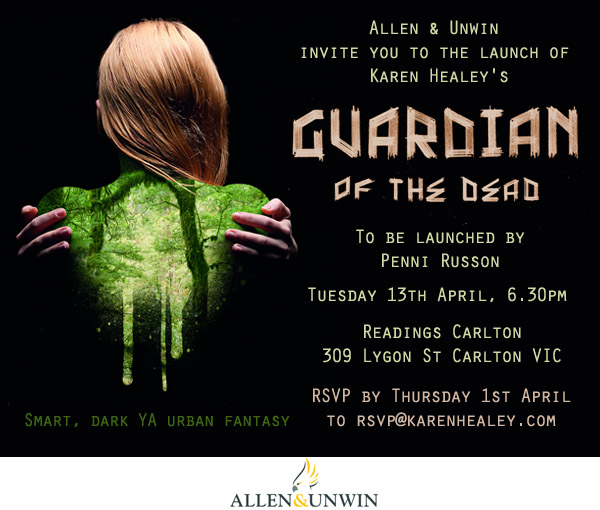 See that? To be launched by ME! I am the famous person. I do hope Karen doesn't question her choice of launchers when she finds out how uninitiated I am in the ways of launching. Luckily I loved the book, and many things about it reminded me of Undine, Breathe and Drift. It has a wonderful magic system, looping around pimarily Maori mythology (embedded as it is in the New Zealand islandscape), but also interested in the base similarities between many different myths, basically arguing that people structure themselves through stories, and because we are made of stories, stories are true (through our investment in them, we make them true). Okay, you probably need to read the whole novel to get what I am saying here. It is a poetic idea, and it resonated deeply with me. Come on down on Tuesday and buy it for yourself, and see me say things and Karen will also say things and then there will be drinkings and you can say things to us and each other and to the shopkeepers like 'I'll take two Guardians, and by the way, do you have a copy of Penni Russon's
Little Bird
, which I hear was named a CBCA
Notable
book this year'. (See what I did there with the subtle self-promotion? Seamless.)
2.
I have a piece in this new collection edited and published by Karen Andrews from
Miscellaneous Mum
. It has already received attention in
The Australian
, an article which was further discussed
here
and
here
. The collection is diverse, some 'writerly' reflective pieces, some cultural commentary, some literary criticism, pieces that straddle the borders of the personal, political, public, private, ephemeral, but strangely permanent - as is the nature of the blog. Laurie Steed is launching it on
Wednesday 14 April at 6.30pm
. The launch is at
Readings Carlton
, just like Karen's so I will be sleeping in the little picture book room at the back of the shop on Tuesday night of course, since it would be silly for me to drive all the way home.
I hear that sometimes people drink wine at these things. I of course will not be doing that because I am on my Ps, and an arrested adolescent (who does not want to be actually arrested). But you should feel free to drink wine.
Perhaps all this launching will inspire me to do one of my own. My next book isn't out till July 2011. So that gives me plenty of time to plan.